1880mm Double Cylinders Double Wire Paper Machine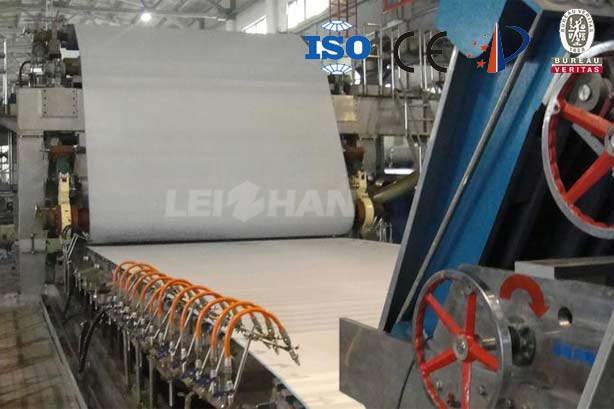 Recently, many paper making friends are interested in to set up paper mill to produce writing paper, printing paper and copying paper. The whole line of double wire cultural paper making machine details as below.
Double Wire Double Cylinders Machine To Produce Writing Printing Copying Paper
Final paper kind: Writing paper, printing paper, copying paper, etc
Paper weight: 40-120g/m²
Paper width: 1880mm
Cylinder width: 2300mm
Production capacity: 15t/d
Gauge: 2800mm
Double Wire Cultural Paper Machine Main Pulp Equipment
10m³ Hydrapulper
1.8m² Vibrating Screen
8m Waste Paper Chain Conveyor
380 Double Disc Refiner
35m³ Pulp Bleaching Machine
Φ700 Pulp Agitator
Inclined Dewatering Machine
High Density and Low Density Cleaner
Pulp Pump, etc
The whole equipped machine also include ventilator, vacuum pump, calendering machine, paper roll winding machine, rewinding machine, paper cutting machine, paper winding roller, etc. We can supply the complete cultural double wires double cylinders paper making machine, more details consult us: leizhanchina@gmail.com.
Contact us or call +86 371 55129198 for more information.